Retail store on Kronverkskij pr.
Самовывоз из нашего магазина : бесплатно, быстро и просто!
Вы приезжаете за товаром в наш розничный магазин;
Вы экономите деньги на стоимости доставки;
Вы не ждете доставки заказа, а забираете его в любое подходящее для Вас время.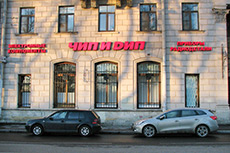 Address
197198, 73, Kronverkskiy Prospekt, Saint-Petersburg
By public transport: Go to the «Sportivnaya» or «Gorkovskaya» metro station, then walk down to 73, Kronverksiy Prospekt.
GPS / ГЛОНАСС
latitude:
59°57'3.96"N (
59.9511
°)
longitude:
30°18'20.16"E (
30.3056
°)
Contact onformation & open hours
Retail
| | |
| --- | --- |
| Пн–Сб | 9:00–20:00 |
| Вс | 10:00–18:00 |
Description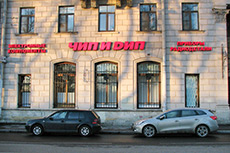 It is the first «Chip & Dip» retail store in Saint Petersburg and it has become popular among Petersburgers. It is difficult to describe the environment in the store of electronic components. Here we offer you the so called individual approach.
It's the right place to choose what you really need in the wide range of modern appliances and materials. You can order items by phone to be shipped by the agreed date and receive at the cashier's ahead of line. Our shop assistants are at your disposal. The store is located near the Petropavlovskaya Fortress.
Our «Chip & Dip» Wholesales Service is also available at the store.
Pricelist
Pricelist
of this store. Retail prices.
Excel file zip-archive 21.01.2018, size 846 kB
Pricelist
of this sales office. Wholesale prices.
Excel file zip-archive 21.01.2018, size 4097 kB