Dual Soldering Station ST-966
When repairing and mounting radio electronic equipment we often have to solder electronic components that require different soldering modes and solder iron tips. In situations like that we need to use additional soldering irons or constantly change the solder modes and solder iron tips from one to another.
Notably, in this power supply unit ...
Items from this video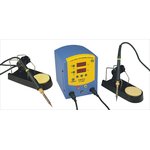 CT Brand