Soldering Station Ersa ICON
Soldering Station Ersa ICON
A German company ERSA has introduced a new i-CON series of soldering repair stations. Let's examine one of them closer. Icon station consists of a single-channel microprocessor control unit. It is supplied with i-Tool – a small super-powerful soldering iron. A pen-sized soldering iron is furnished with a 150 W heating element ...
Items from this video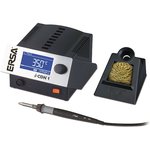 Ersa