MS-148 tester-sampler
MS-148 tester-sampler

MS-148 tester-sampler is designed to check noncontact for the presence of AC/DC in the network as well as to check for open circuits and determine polarity of the DC.
The device is performed in a compact casing in the form of a pen. To test the AC in the network, switch the relay to "H" position, take the tip of the tester to the place of testing ...
Items from this video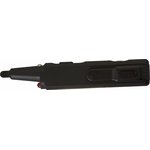 Meet