TR 360 Medicine Timer
Published 22.04.2011
Presenter Evgenij Glazkov
TR 360 Medicine Timer

TR-360 is a small beeper serving as an electronic timer.
The maximum setup time is 99 hours 59 minutes. A liquid-crystal display shows the set time.
The delivery set includes a belt clip, a magnet and a support with which you can place or fasten your timer as required.
You can use this beeper as a reminder to take medicines or ...
Items from this video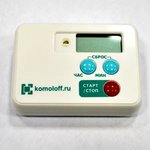 Komoloff