Soldering iron ERSA-30S
Soldering iron ERSA-30S

A multifunctional 40W soldering iron will certainly suffice for everyday use at home or elsewhere for soldering wires, sockets, clamps, switches, or various radio elements.
Let's have a look at such soldering iron. This can be, for example, Ersa-30S made in Germany.
This soldering iron uses a nickel-chromium heating element with a 40W power ...
Items from this video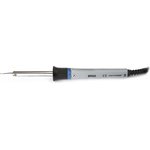 Ersa