Anemometer MS6250
Anemometer MS6250

Here is device MS6250 manufactured by company Mastech designed to measure wind speed or other gas flows or propeller anemometer.
Main parts: a fan at the stand, handle and display and control unit. 20 mm LCD display with very nice lighting is used to show results.
This model has two distinctive features. 1 – simple design and use ...
Items from this video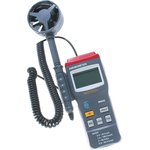 Mastech