M3900 digital multimeter
M3900 digital multimeter
M3900 multimeter produced by Mastech is a simple entry-level measuring device. Measurement ranges are switched over by hand. Values are displayed on LCD screen. And it measures the main electrical parameters. Such as?
Firstly it measures constant and alternating voltage. There are 5 ranges for constant voltage from 200 mv to 1000 V ...
Items from this video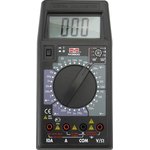 Mastech