M1015B Pointer Multimeter
M1015B Pointer Multimeter
In addition to cutting-edge instrumentation, Mastech Company also offers traditional time-proved devices.
For example, basic analogue multimeters, model M1015B. These multimeters measure only basic parameters including DC and AC voltages up to 300 Volts, direct currents up to 250 miliamperes, resistance of up to 2 mega ohms ...
Items from this video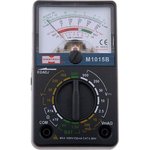 Mastech