Retail store and sales office in Novosibirsk
Самовывоз из нашего магазина : бесплатно, быстро и просто!
Вы приезжаете за товаром в наш розничный магазин;
Вы экономите деньги на стоимости доставки;
Вы не ждете доставки заказа, а забираете его в любое подходящее для Вас время.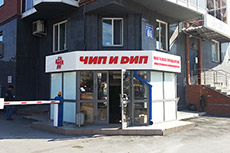 Address
66, Semji Shamshinyh St., Novosibirsk
Travel by public transport to the metro station «Marshal Pokryshkin».
Buses: 18, 35, 79, 96
Trolleybuses: 23
Bus: 44a, 49, 8
GPS / ГЛОНАСС
latitude:
55°2'34.44"N (
55.0429
°)
longitude:
82°55'48"E (
82.93
°)
Contact onformation & open hours
Retail
| | |
| --- | --- |
| Пн–Сб | 9:00–19:00 |
| Вс | 10:00–18:00 |
Description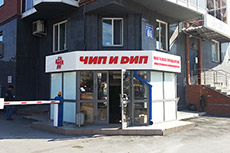 Brand shop of radio components and electronic components «CHIP & DIP» in Novosibrisk open to all amateurs, professionals and just keen on electronics people.
In our store you can find, view and buy all the products you need for your work or hobbies.
The store offers all the leading manufacturers: both domestic and foreign.
Pricelist
Pricelist
of this store. Retail prices.
Excel file zip-archive 23.01.2018, size 501 kB
Pricelist
of this sales office. Wholesale prices.
Excel file zip-archive 23.01.2018, size 4097 kB