"Krona"? What is it?
"Krona"? What is it?

Batteries and rechargeable batteries are still the most popular sources of energy for tiny electronics and appliances.

The name "Krona" is a legacy from Soviet brand "Krona VC"- a manganese-carbon battery which had the same dimension type. It was first produced in 1963. It was used in small transistor receivers ...
Items from this video
Camelion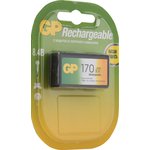 GP Batteries
Product groups from this video