Lacquer Marker Edding 792
Lacquer Marker Edding 792
To produce simple printed circuit board in home conditions provided that the desired circuit is elementary you need to draw it directly on glass-fiber laminate. It let you not waste your time to make a template to transfer pattern. Different inks or Zapon lacquer are used for drawing. But the easiest way to draw the circuit is to use a special marker ...
Items from this video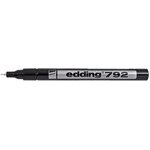 Edding
Product groups from this video