Soldering iron Ersa-300
Soldering iron Ersa-300

Tinning is usually done with the help of high-power soldering irons. Let's have a look at one of such tools. Here we have a 300W hammer-type soldering iron, Ersa-300.
German engineer Ernst Sacks was founder of Ersa company. In 1921 he invented and patented a design of an industrial electric soldering tool of hammer type which was used for tinning ...
Items from this video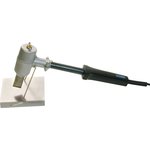 Ersa