IC L293D Motor Driver Chip
IC L293D Motor Driver Chip
To control robot motors, you need a device that could convert low-power signals into currents that are sufficient to control motors. Such a device is called a motor driver.
There are many various electric motor control circuits. They differ by power and their hardware components. Let me show you the simplest motor control driver designed as a chip ready for ...
Items from this video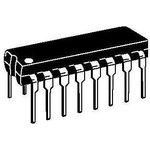 ST Microelectronics
ST Microelectronics