MS8211D Digital Multimeter
Published 09.01.2012
Presenter Anton Stepanov
MS8211D Digital Multimeter
Now you can see MS8211D digital multimeter produced by Mastech. Its shape may seem to be unusual to you. It is an easy-to-use pencil type multimeter. If you keep it in your right hand, you may see its display.
The multimeter is handy and has a low weight.
Black probe is connected to a COM plug on the rear panel of the device ...
Items from this video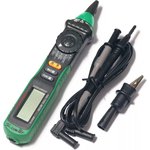 Mastech