Add-in card ME-SMARTADAPT2
Add-in card ME-SMARTADAPT2
A large number of the debug cards have a standard 10-pin connector, wired from one of the ports of the microcontroller.
For example, a laboratory stand EasyAVR5A has 5 such connectors.
But what if the pin connector on your device is non-standard?
The additional module ME-SMARTADAPT2 will solve such a problem once and for all.
This ...
Items from this video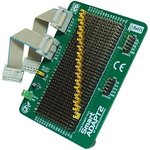 mikroElektronika